Events
Asiaciti Trust's Kate Weiss is speaking at March 18 Hubbis Webinar
9 Mar, 2021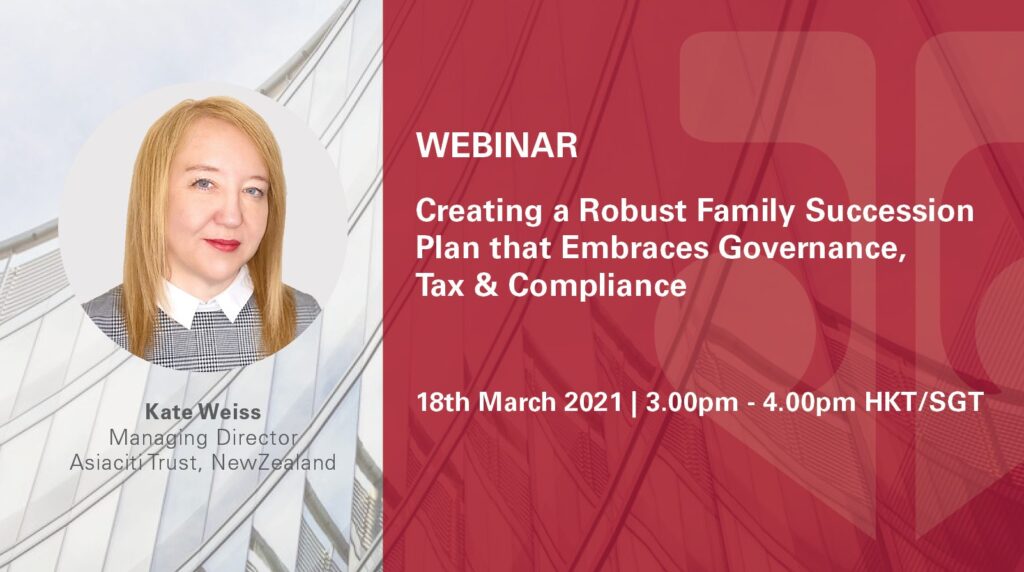 Asiaciti Trust is excited to partner Hubbis for the upcoming Digital Dialogue event. Join Asiaciti Trust's 
Kate Weiss
 and other experts for a virtual discussion on creating a robust family succession plan.

Creating a Robust Family Succession Plan that Embraces Governance, Tax and Compliance

How are Asian founders, patriarchs, matriarchs and their families dealing with the estate and family business succession?
Are the private bankers and independent wealth management experts working efficiently with lawyers, trustees and other specialist advisors to help create and execute successful succession plans and structures that are also compliant with regulations and tax rules?
What role does family and business governance play in these plans?
How does the wealth advisory community deliver advice and structures across multiple jurisdictions?
How closely involved should the second and third generations be in this estate and succession planning?
Is enough being done to mitigate or avoid family disputes?
What is the future for estate and legacy planning, structures and relevant jurisdictions?
Register
here.