Press Release
Asiaciti Trust augments senior leadership with appointment of Group Managing Director
21 Sep, 2020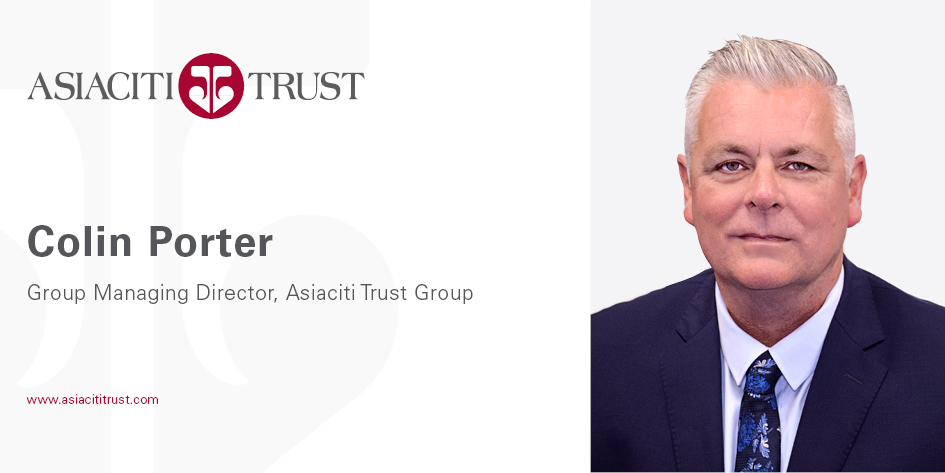 Asiaciti Trust
has announced the appointment of Colin Porter to the newly created role of Group Managing Director. Porter, who has in excess of two decades of experience in providing cross-border solutions for high net worth clients, entrepreneurs and their businesses, was most recently the Chief Executive Officer for a London Stock Exchange (LSE) listed fiduciary services group.
Jerome Briggs, Chief Executive Officer, Asiaciti Trust Group said, "We are pleased to welcome Colin as a key pillar of our senior management team during this exciting phase of growth for
Asiaciti Trust
. Colin brings extensive industry experience, broad global perspectives and invaluable managerial expertise. He will work alongside our existing leadership team as we build on the success of our company by continuing to deliver best-in-class service to our international corporate and private clients."
"I am excited to join Asiaciti Trust because I share its corporate culture and core values, and in particular, its demonstrated commitment to fiduciary independence – always acting in the best interest of its clients," added Porter.
"The current challenging and dynamic environment has created an urgent need for our clients to rethink and review their wealth and asset protection strategies. Hence, I can't wait to work with colleagues across different regions to provide the right approach and structures that will ensure resilient wealth preservation, wealth transfer and succession planning for all our clients."
Prior to joining Asiaciti Trust, Porter was the Chief Executive Officer of STM Group, an LSE listed international group of companies that provides solutions for entrepreneurs and businesses to maximise wealth and protect their assets. He started his career as a trust lawyer. Porter, a member of the Institute of Directors, also held directorships in major trust groups around the world. He is a senior member of the New Zealand Trustees Association and a member of the Society of Trust and Estate Practitioners (STEP).
Porter holds a law degree from Auckland University, the top university in New Zealand, as well as a business degree from Massey University, majoring in Finance and International Business.
For media enquiries, please contact:
Eileen Wong
Officer, Group Marketing Communications
Asiaciti Trust Group
Telephone: (65) 6533 2611
Email: media@asiacititrust.com
EDITOR'S NOTES:
Asiaciti Trust is a family owned, wholly independent trust and corporate services provider with operations in Singapore, Hong Kong, the Cook Islands, Dubai, Nevis, New Zealand, Panama and Samoa. For 40 years the Group has delivered specialist fiduciary and administrative services to individuals, intermediaries and corporations, and is one of the most recognised and professionally respected names in the industry.
Asiaciti Trust Press Release