Latest News
Asiaciti Trust appoints new MD for Singapore
11 Jan, 2021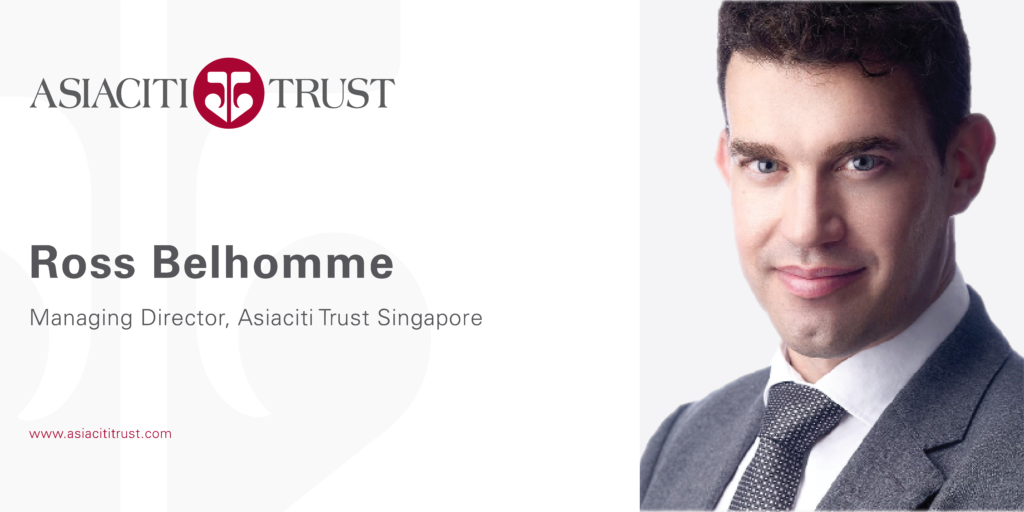 Asiaciti Trust
announced today that it has appointed Ross Belhomme as Managing Director for its Singapore office. Belhomme brings with him over twenty years of proven management expertise and strong client-centric experience in trust and fiduciary services.
Jerome Briggs, Chief Executive Officer, Asiaciti Trust Group said, "We are pleased to welcome Ross to
our management team
. I am confident that with his impressive background, in-depth knowledge of our industry and proven client management skills, Ross will bring immense value to our clients as he leads our Singapore office in its next phase of growth."
"After a twenty year career in Europe developing and implementing structuring solutions for families and businesses whose lives are increasingly complicated as they operate more and more globally, I am excited to join Asiaciti Trust, which has an impeccable track record of providing the highest quality service for over four decades," Belhomme added.
"As one of a few global fiduciary firms remaining truly committed to maintaining its long term stable family ownership, I truly believe that we can build on the last 40 years of success and develop one of the highest pedigree client-focussed firms fit for serving their needs in the 21st century ."
Belhomme relocates from Switzerland, where he was concurrently the Managing Director of Alvarium Investment's fiduciary business and a Director of Guggenheim Investment Partners. Prior to that, he held key positions at major US and UK banking and financial services firms.
As the Deputy Chairman of the Society of Trust and Estate Practitioner's (STEP's) Digital Assets SIG Steering Committee, Belhomme is heavily involved in leading the evolution of the industry as it enters the digital age. He is a former representative at the Swiss Association of Trust Companies and has been a European committee member of the International Business Structuring Association since 2015.
Belhomme is a graduate of the IE Law School's inaugural legal and technology LLM programme, holds a law degree from the University of London and attended Harvard Business School's inaugural Private Equity & Venture Capital programme.
View Full 
Press Release